Ahhhhhh, this episode felt like a blast of fresh, clean ocean air after the stagnant reek of last week's Jackwhack. Like a taste of light pineapple sorbet cleansing the palate after a heavy, stomach churning dinner. Like a strong shot of penicillin after a bout of Bai Ling Skank Disease. Like...well, you get the picture. It was delightful!

Duuuude

Hurley finds Hope. I guess it's as good a place as any to start the long repair of Lost back from its Jack addiction. Good for him not blinking an eye when Sawyer told him Jack was still with the Others. In fact, good for all of them for not giving a hoot. The audience sure doesn't! This episode had Season One all over it! And it had masses of heart behind it.

Was it a little goofy that Hurley's mom didn't blink an eye when her son told her a METEOR had crashed into his restaurant? A little weird that Jin and Sawyer agreed to push Hurley and Charlie over a cliff to certain death? A little impossible that the van started without a working battery and/or any gas? Okay, okay, it wasn't what I'd call a plausible episode, but dude, it was funny. It was pure, happy entertainment. Who didn't at least chortle when Hurley's mom delicately covered the gold Jesus' statue's ear before confessing that she had 'needs'.

This entire episode was theme-centric. Determinism versus free will colored every single story in the episode: Hurley, Charlie, Jin, Kate and Sawyer. Hurley and Charlie set out to change their luck, or at the very least thumb their noses at their fates. Jin is clinging to his "born Korean" rut and afraid to try learning English. Kate is determined to save Jack the way she couldn't save Tom, resolved that her life will not cost another person theirs again. Sawyer, OTOH, is determined to stick to his white trash, never-will-be-any-good view of himself, clearly having no hope - no "motivation", as Kate put it. (Kate's motivation was made very clear, BTW. She owes Jack.) It's all about breaking the patterns and getting out of the rut of despair and fatalism. Sawyer's not there yet, but something tells me he's on the brink.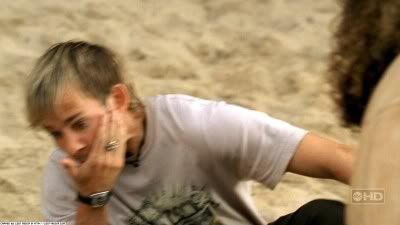 How good was it to see Sawyer get out of that Brown Shirt of Agony and into the Ripped Blue t-shirt of Kicking Back with the Boys? Is blue his color or what?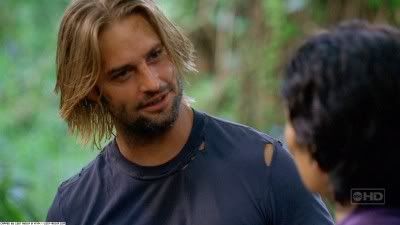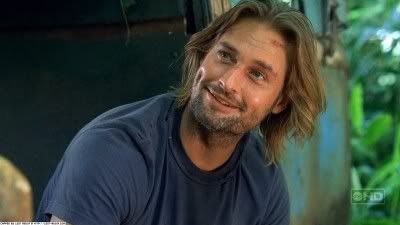 Hello ENSEMBLE

- The twinkle in Sayid's eye, the sardonic lift of his eyebrow when he told Kate that John had a direction in mind, "From the way the sunlight glinted off Eko's stick when he buried him."

- Charlie's reply to Sawyer about why he was there - "I came to ride shot-gun," with a big grin and wink at his potentially unhinged friend, Hurley.

- Hurley's drive and determination, the way he made Charlie "Snap out of it!" and then lifted Sawyer right up off his butt and made him get to work.

- The sweet hug between Kate and Sun--Kate needs a girlfriend about now. Can you imagine a scene where Kate says to Sun, "So...Sawyer and I finally did it. In a bear cage."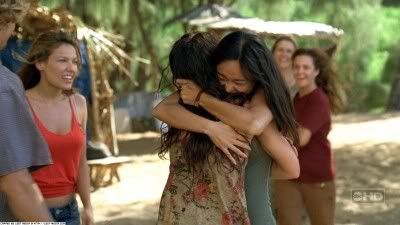 Loved how Sawyer went storming after Hurley only to be swallowed into a big bear hug that he couldn't resist.




Loved his manly reunion with Jin-Bo, real affection there.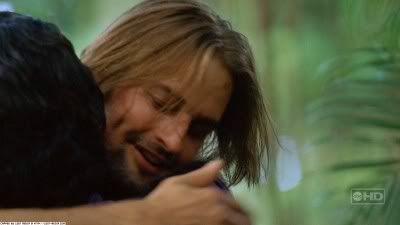 His reaction when he saw the head!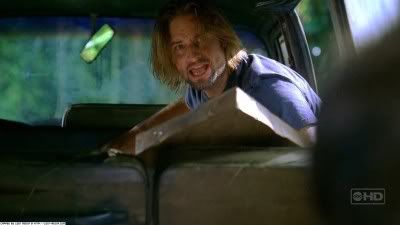 Laughing at Jin's English lessons.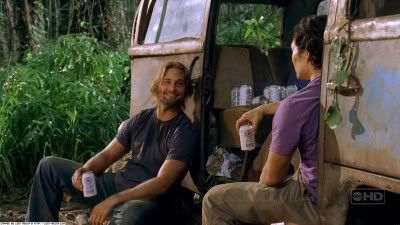 And Boys and a Dog with the VW Bus, surrealistic moments of joy dropped like a gift into their unremittingly miserable existence.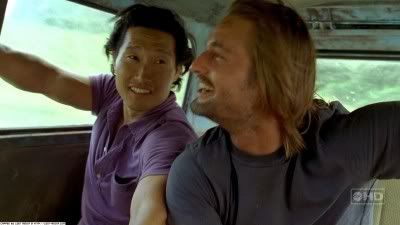 Jin giving Sun the flower, harkening back to their courtship days when all he had to give her was a flower. Sawyer might have told him what to say, but a flower is worth a 1000 words.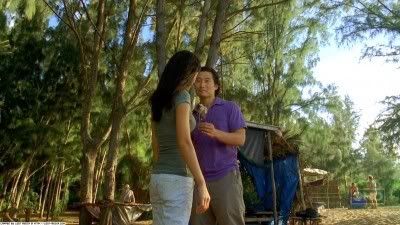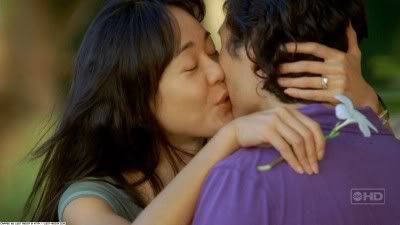 And then of course Sawyer's face when he realized that Kate wasn't there, all the happiness drained out instantly...a classic scene of him shaking back his hair and popping a beer, trying to pretend to himself he doesn't care...when that's never going to be possible for him again.




Whose show is this anyway?

As much as we've all heard this is the Jack Show, that Jack is the main character and therefore the one most completely delineated, the actual experience of watching the show is entirely different. The truth is the character that is growing, changing, evolving before our eyes is Sawyer - with or without flashbacks, he may be the only character that reaches the level of becoming real before our eyes. In the beginning, nothing but a selfish hoarder, self protective and cold...this episode we saw a man subtly but indelibly changed by his experiences since the crash. The big, tough hardass was a little boy who watched Little House on the Prairie by himself in his trailer - that alone gives the guy more humanity than a dozen Jackbacks have shown us. He wanted to attack Hurley for drinking his Scotch, but instead ended up involved in Hurley's quest for hope, not an aloof bystander anymore, but a friend - reluctantly, cantankerously, irritably, sarcastically - but a friend nonetheless. He's still Sawyer, still funny and stupid and cranky, but he's also a tragic figure, a man in love who isn't going to be able to escape the pain of his humanity for much longer. No matter how hard they tried to shove the Jack Show down our throats, Jack has remained a one dimensional figure of screaming, eye bulging arrogance and domination. But Sawyer is deepening, softening and changing before our eyes in a way that always feels real and natural. Credit to Josh Holloway here for taking a character that probably was meant as little more than a cartoon and turning it into one of television's most compelling and intriguing characters - simultaneously comic and tragic and - rising above often bad material - always human, natural, believable and real.

The Return of the Shipper Scorecard

- Kate looks at James with love and hope, begging with her eyes for him to put his walls down before they have to face their friends....Skate +10




- He (of course) only puts his walls up higher...Skate -10
- He looks at her, sad and longing, when she can't see him....Skate +5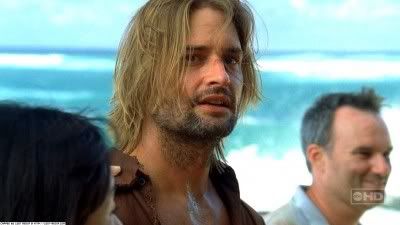 - She looks at him, sad and longing, when he can't see her....Skate +5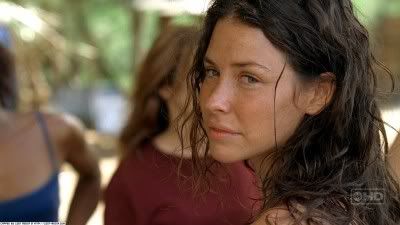 - She takes off without a word to pay what she owes to St. Jack of Ass ...Jate + .01 (obligation tax)

- His face when he can't find her to offer his peace offering of...um, skunk beer...Skate +awwww

- Kate picking up the net of LUUURVE near Rousseau's camp...Jate +ROTFLMAO!!!!

- The split screen of the now separated lovers, united by the torch Kate carries with her, the not at all subtle sign that Jate has been buried in a hole so deep it would take sonar to ever find it again...???

PRICELESS!!!