SETTING THE RECORD STRAIGHT

I don't really have the time to get all fancy with this, so I'll lay it out straight: Andy Page, a/k/a DarkUFO, has been lying about why Fishbiscuit recaps no longer appear on his site. The truth about liars is that the more lies you tell, eventually the harder it is to keep track of them all. Like the boy who cried wolf, one too many can leave you with proverbial egg on your face. The truth gets out. One way or the other.
This past December I decided to approach Doc Arzt about the possibility of moving my episode reviews to his site. I was delighted and honored that he was willing to host them. There was no complex motive behind this - merely an appreciation for the quality and the tone of
Doc Arzt & Friends' Lost Blog
, which I consider to be the pre-eminent Lost site on the internet. I simply wanted to be associated with a better place, a classier site with a more positive attitude and a more intelligent community.
Now since I'd recently been made aware that Andy Page considered Fishbiscuitland to be a
"squalid"
place, I didn't really feel I owed him much of an explanation about my move. It's not as if the guy had ever seemed to appreciate the time and effort that went into all the free work I gave him, but I would ordinarily have at least notified him. His open contempt for FBL left me feeling that he didn't really deserve that much respect. There was a bit more to it, some open threats to our members and some cyber harassment by a very AndyUFO-type character named "Flub", about whom I'll have more to say in a later post. But the point is the break was made, and I moved on happily to a far more intelligent, civilized and positive site. I love it at Doc Arzt's blog and it's the best decision I could have made.
End of story, right?
Not exactly.
It seems that Andy is quite the sore loser and when people began pressing him on his blog about where the Fishbiscuit reviews had gone, he couldn't just state the facts, as he knew that I had chosen to move them to Doc's site. For reasons known only to Andy himself, he decided to make up a big Fish story instead. You know those polls that AndyUFO runs on his site, the ones he says that readers submit, scintillating questions like "If Lost was a breakfast food, what would it be?" Well, there was one on
May 05, 2008,
entitled "Which DarkUFO recapper do you enjoy most?". Here is a screencap of that poll: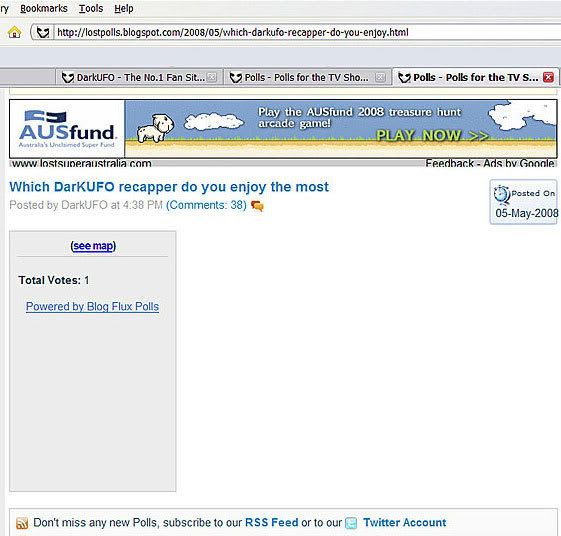 Now you'll notice it only has one vote on it and um, NO poll options, but we'll get to that part later. According to Rewrite Andy, Fishbiscuit lost this poll and even though no one was notified of this uniquely meaningful poll, and even though AndyUFO never bothered to tell me about this decision, these poll results allegedly convinced him he should drop FBL recaps from then on. Now there's a few funny things about this poll.
If you want to see the
actual
results, it was captured here as it appeared in archives on Jan. 21, 2009 at approximately 6:30 p.m. EST.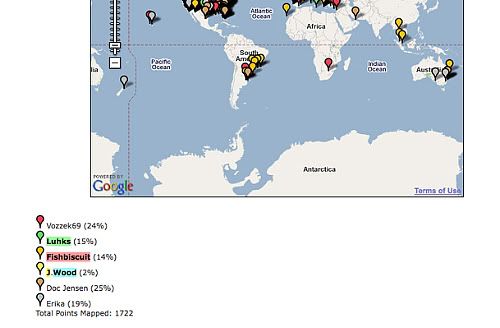 As you can see, Fishbiscuit did not actually lose this poll. The brilliant J. Wood had that distinction, since only 2% of Andy's highly intelligent fans had any appreciation for his incredible scholarship and insight. And what's more, a reviewer by the name of Anna, one of those Andy claims was preferred to Fishbiscuit....um,
wasn't even an option on this poll.
Now the poster who had found this poll tried to give the guy an out, but Andy was sticking to his lie....because Lord knows, the last thing an internet blog relying on ad clicks wants is
too much original content
LOL!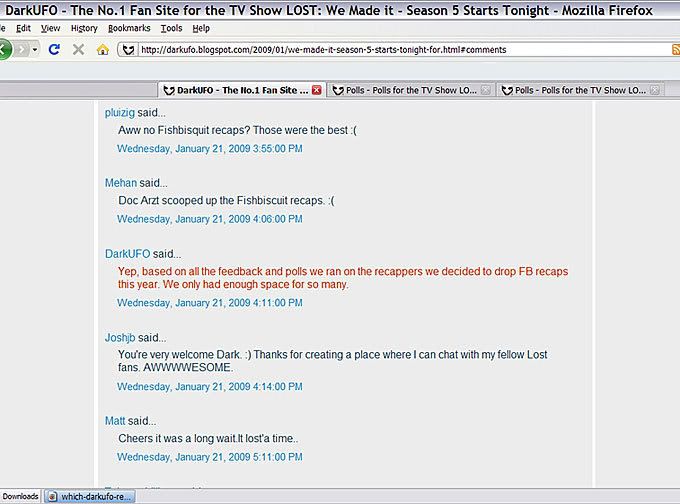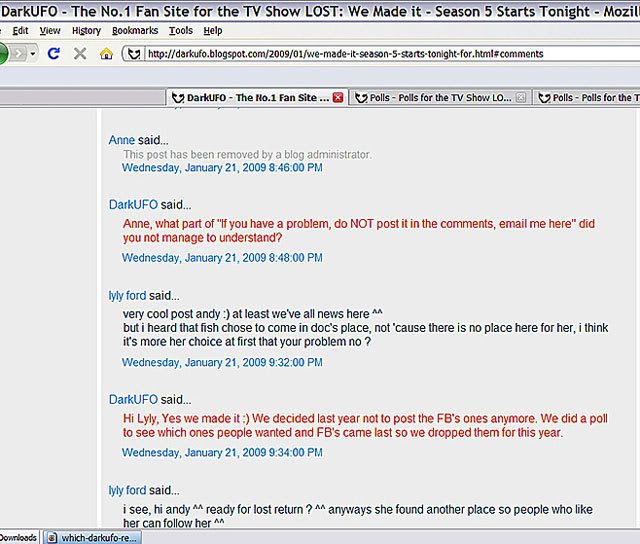 But Andy must have realized that on the internet, no good lie goes unpunished for long. Because look what happened less than 15 minutes later! The same poll, same total votes, but oh, my! How J. Wood's popularity has skyrocketed! And oh, wouldn't you know it, Fishbiscuit has taken a sudden nose dive in popularity. All without a single vote lost or gained. Neat trick!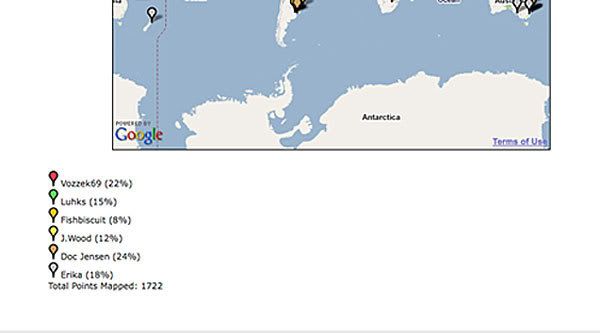 But wait. Where's Anna? After all, Anna was one of the reviewers that Dark declared had been voted ahead of Fishbiscuit. And gee, she isn't even on the poll....At least not for another ten minutes!
Now, there she is! Hi, Anna! This is magic at work, right before our eyes. Time travel even! Andy traveled back into the past and course corrected his made up poll to turn his big fat lie into .... proof that he's committed to being completely juvenile about this whole thing! And then to try and cover his tracks completely, he ran back and wiped his own May 5, 2008 poll on his website! Can you just picture this silly man frantically running around changing poll results in the space of an hour? I'm sure it never occurred to him that one of my readers was out there following him around, scooping up all the evidence of his mad dash. If nothing else, you have to admit this whole thing is Hi-Larious.
Now, no fan of the squalid Fishbiscuitland is in the dark about Andy's proclivity for tampering with polls. Who can forget his boasting about how he'd rigged a poll on Buddy TV last year? Here's Andy being proud of his poll hacking at Buddy TV in Jan. '08, back when he enjoyed splashing around in the Fishpond.
DarkUFO: You are joking? The TaterTops and BuddyTV polls are the easiest ones in the world to hack.
Have a look at the BuddyTV polls in about an hour and you will see what I mean Very Happy


LOL Thanks :)

If there are any more that require hijacking just let me know
1) I wonder if DarkUFO also personally hacked the Tatertops poll

DarkUFO: No, but I could have.

2) and that's why he thought he had the right to publicly contradict Kristin's own claim it was fair

DarkUFO: I'm sure that Kristin is not aware of SQL Injection techniques into Databases and HTTP Packet Sniffers
I guess Andy Page, being the ethical gentleman that he is, thought he could get away with his self serving lie because he relied on my silence. And I didn't really care that much, and wasn't going to bother publishing all this (nor the Flub expose that will follow). But this guy can't shut the fuck up. He can't stop. He's still repeating this damn lie and seems so eaten up with jealousy...or something... that he can't bring himself even yet, to just admit what happened. He's still pushing the same lie.

Let's remember that this secret poll that no one realized meant anything, the one Anna wasn't on, the one J. Wood came in last on - this poll that convinced Andy to "drop" FIshbiscuit recaps, happened on
May 5, 2008
. Now never mind that Andy never TOLD me - ever - that he was "dropping" me. How about the fact that he published two more recaps
after
May 5, 2008
? How about the fact that he published my Season Recap on
JULY 20
, a full TWO MONTHS after this poll that proved to him no one wanted to read my recaps?
I'd LOVE to hear Andy's explanation as to why he continued to benefit from my work when he had apparently secretly decided he didn't want it anymore. But most of all I'd like to know why -
over a month
after this ridiculous poll, Andy sent me this email on
June 12
inviting me to join his Fantasy League as a
LOST INTERNET CELEBRITY
.
Hi Fiona,

As you may or may not remember over at DarkUFO we ran a very
successful Lost Fantasy League (over 2,500 people entered) last year
and you were one of the Celebrities that we chose to participate to
make it more fun for readers to pit their skills against known Lost
Internet Celebrities.

We would like to do the same this year, however we have an extra
addition to the League which will help readers of your site
participate more in your own community.

We are introducing the concept of Mini-Leagues, which allows a user
when signing up to select the League they would like to join. The
Initial group of mini-leagues are shown below.

DarkUFO
Lostpedia
Lost-Forum
The Tailsection
DocArzt
4815162342
StationZero
LOST-TV
LostZilla
Fishbiscuitland
The ODI
Sledgeweb
DigitalSpy
IMDB
ABC.COM
Jay and Jack
E!Online
The Fuselage


We will be keeping track of all the scores and hopefully this addition
will make for some increased discussion on your own sites. I will be
contacting you again in a few days when the S5 Fantasy League
Submissions go live and you can let your readership know to complete
the form and select your site as the mini-league that they would like
to join.

If you have any questions, please don't hesitate in contacting me.

Thank you and looking forward to your participation in this event.

NOTE: If you think there is a site/celebrity that I have missed please
let me know.
_________________________
Cheers

Andy (aka DarkUFO)
http://darkufo.blogspot.com
http://spoilertv.blogspot.com

We had an entire series of friendly exchanges over this contest and, like a good squalid friend, I helpfully put up
an entry on June 14, 2008
urging my readers to join one of his teams. I don't want anyone to misunderstand and think I'm taking any pride in being called a "Lost Internet Celebrity" by DarkUFO. I'm just wondering why he wanted to include me and my
"squalid"
fish if, as he suddenly claimed 7 months later, he'd already secretly decided we weren't a 'good fit' for his site.
Look, I don't think DarkUFO is anywhere near the No. 1 Lost site on the internet. But he has some fine recappers there. Luhks, Vozzek and Erika are all excellent writers, and their reviews are always worth reading and are always fun to read. None of Andy's asinine behavior reflects on them or on anyone else who contributes so much hard work so Andy can benefit from it.
The only point being made here is this: Andy Page, you can stop lying now. The truth is out and you can do us all a favor from here on and just STFU. I'll have more on this later, on a topic that's, if possible, even more embarrassing. Seems "someone" was having such a hissy fit over all this that he stooped to cyber harassing some of our Fish. Check back soon to read
"Will the real FLUB please stand up?"
It only gets better, folks.
Read more...