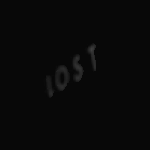 The Countdown is OVAH!
Watch the last seconds tick down.
Today's the DAY!
We have come through the desert of the ultima, ultima hiatus and tonight it finally ends. Lost is BACK! Will it be worth it? Will be be rewarded for our perseverance and our dedication and our endless months of message board kvetching and kvelling? We'll know soon enough.
But it's a good day. Today we are all Lost fans. Think about it! We even have America's first president who is................
HAWAIIAN!!
Shaka, Mr. President!

Enjoy the show!!!!