Less than a week to go and momentum is building fast. Everywhere you look, there's a Lost promo or sneak peek or spoiler or magazine cover. There are even billboards, how cool is
that
! :)
For today's
retrospective moment on the way to the gloriousness of new episodes,
we're going to ack_attack's Season 2 recap. If you're not familiar with ack_attack, you're in for a trip and a half. She is one of my very favorite Lost fans anywhere. - funny, clever and original, her Lost pieces always crack me right up. Her brand new S-2 recap is now one of my favorites, and I hope you all enjoy it.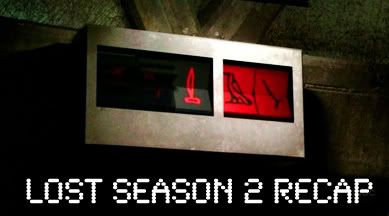 Season 2 Recap
And just because laughing feels good and there's no such thing as too much of it, here's a bonus feature in the reminiscing category.
Sawyer's Acting Class