Batshee the Thesaurus mangler has surfaced to try to mitigate the damage of the season 4 DVDs and utter lack of pro-jate comments or extras by posting another of her ridiculously longwinded essays. Here's an abridged version to spare you the tedium.
"TPTB are the equivalent of salesmen trying to sell a product-the triangle b/c it brings talk and ratings. It's the nature of television politics.

I've seen it debated that "marketing" aka hype is only designed to be reflective of popularity & reverence. Therefore b/c Skate is being propped and Jate is not, it means it's better and the OTP. Well, a frequent tactic used by marketers of movies is to isolate the positive comments about the movie & put them in quotes in an ad. I.e a critic may have called a movie "outrageously bad but it had some good moments"-yet all you see in the paper is "outrageously" "good". More specific to this topic-there were portions of Pro-Jate comments by Evi taken out of interviews in Lost mag (namely the post ID issue which was Skate heavy) and the question is why? If not to ride the coat tails of the "Kate definitively chose Sawyer" hype for the 13 week hiatus, which obviously turned out not to be true. And we knew at the time too it couldn't be true b/c of the SHOW and how Kate said she can't leave w/o Jack.

Marketing, by definition is a game with the consumer. And again, it becomes about who is the better chess player. Do you buy everything you see just b/c they say its good or something is the current "it" trend..or do you make your own determinations based on the facts of your actual experiences w/the product."

Marketing is a chessgame? WTF?
Can this broad get any nuttier? I'm sure everyone's engaged in a tense strategic battle of wits with the advertizers over whether they have McDonalds or Burger King for lunch.
The Lost creators are playing a stealthy shipping game with us, only hyping the bad shit on the show, trying to peddle the couple that they know people aren't really interested? Say what? Why?
Banshee's forgetting that the DVDs' extras are just the icing on the cake after the horse has already bolted. See, Bansh, I can also horribly mix my metaphors. If you bought the freaking DVDs, then you've already succumbed to the hype and marketing, duh!
The post season commentaries help provide insight and clarification on the working processes of the actors and writers - they aren't a politicking venture designed to keep you guessing on what's coming next. Got that? The DVD's and commentaries will be around long after the show has finished airing and all speculation has mercifully ended.
Anyone eating what this idiot is shoveling needs their gullible little Bubble head examined.
The creative showrunners and the press media have become increasingly positive about the Sawyer/Kate relationship (getting more DVD commentary attention, great reviews and hype everywhere, winning polls etc.) and notably are NOT raving about Jate, NOT hyping it up in any positive way. It's barely registering on their radar at all, in fact.
But they're just working in cahoots with each other to fool us, not wanting to spoil the wonderful surprise for the audience that Jack and Kate really are the OTP?
Gimme a frakking break.
To quote fishbitch Helena's marketing professor:



"If you don't advertise, you don't exist!"
But hey, I've been told that Jack/Kate finally topped a couple poll again after making the TV Guide's Top Ten Most Annoying Couples for 2008.
They won the number one slot at Cinema Blend for Top Five Worst TV Romances:

http://www.cinemablend.com/television/Top-Five-Worst-TV-Romances-12405.html
Credit to Helena for this screen cap of the results so far in the readers poll: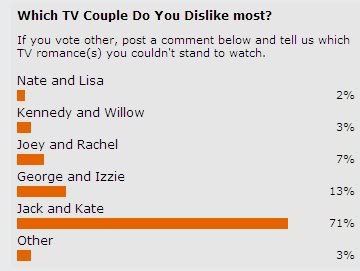 Enjoy, Bubbles. Isn't it great you finally got another media attention? I'm sure you
deserve
more.