Sweeter than Wine

Time to cleanse the bitter from the palate. Let's move on to something sweet, courtesy of Jackhasnochance on YouTube:

The Top Ten Skate Kisses

http://www.youtube.com/watch?v=9bzAmUKMD8o&NR=1

Let's count down the highlights:

#10 - The First Sawyer Cage Kiss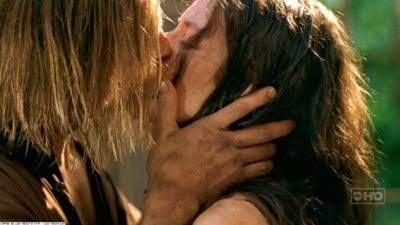 Lovely.

#9 - The Sawyer Lowers Kate to the Floor While She Looks at Him in Bliss Kiss




Sigh...

#8 - The Let's Get You Out of That Shirt Kiss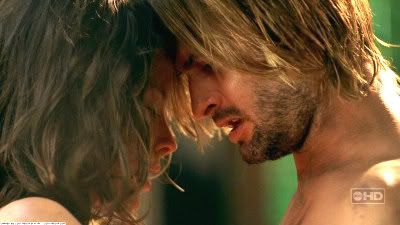 I like that one. I would have voted it higher.

#7 - The Shut Up and Don't Talk Kiss




Hot!

#6 - The Sweaty but Romantic in Chaingangland Kiss

Poor Kate. She looked like she was about to drop with exhaustion.




But this man loves her... completely.




So he came up with a plan.




He knew it would earn him a beating,




But his girl needed a pick-me-up, so...




"Guh..."




"Worth it."

Love that sequence, and Sawyer kicking ass afterwards too.

#5 - The First Kate Initiated Kiss




Pain and confusion, but she didn't run from Sawyer like she did from Jack. Instead, she leaned against him, wanted his arms around her, wanted him close.




I love the way they paralleled the Jate kiss in the set-up, but had her react completely differently with Sawyer.

#4 - The Don't Come Up for Air while I Push You Against the Bars Kiss

Also known in some quarters as the Swirl of Love.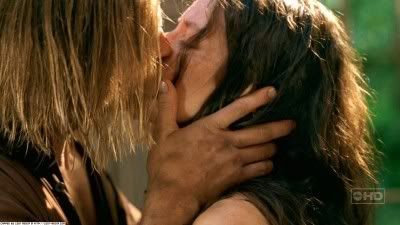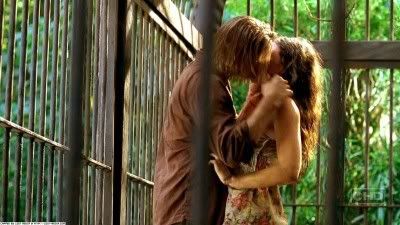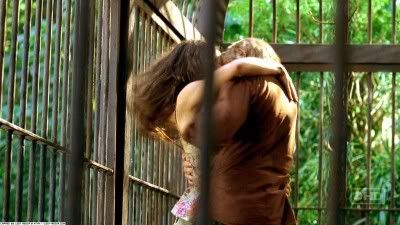 Such a gentleman, making sure her back didn't hit the iron bars.




Convenient avi-sized animation:




#3 - The Look at Their Smiling Faces Kiss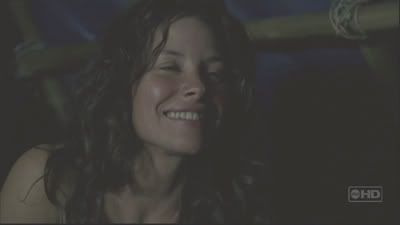 Afterglow... gotta love it.

#2 - The Tied to a Tree in the Jungle of Mystery Kiss

The kiss that started it all. No surprise it won EW's award for "Best Screen Kiss of the Year for 2005".




I think it's safe to say that kiss left them both shaken and stirred... and the audience wanting MORE!

#1 - The "Yes, Dumbass, I Love You" Kiss... because she does!




Love that scene. Sawyer wants to know if Kate loves him, and waiting for her answer wasn't easy. Her response reminded me of that Mo-Town Song, It's in His Kiss. "If you wnat to know if he loves you so, it's in his kiss." In this case, Kate's answer is in her smile as she's snuggled on his chest beforehand, and in the way she looks deeply into his eyes, and in her smile, and in her kiss, and in the small playful kisses afterward, and of course, in the way she laid a kiss on his chest before snuggling right back down into her perfect spot. If that's not enough, it's in the episode title too. :)