That is the question on many people's minds at the moment, and it would appear that one couple in particular is getting major hype coming up to the two hour finale of this season of Lost.
And no, I am not talking about
Jack and Kate
. Whose disastrous romantic foray was encapsulated within one episode recently. That came and went without any hype whatsoever. No fanfare. No heralding of any kind. Even stranger was the lack of comment afterwards. No podcast commentary.
Nada.
Hmmm, But surely the advent of Jate would have warranted some kind of signalling from on high? It's the OTP right?
Well, if you listen to the Bubbleheads and ignore basic story structure and dramatic conventions. And honestly dig that dom/sub dynamic they've got going there.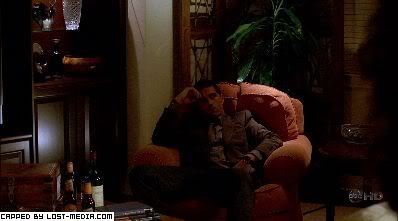 Where the woman gets treated like dogshit and keeps coming back for more.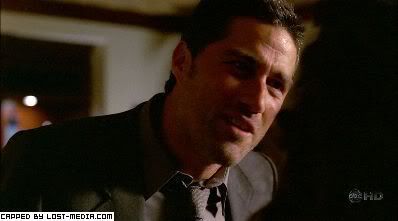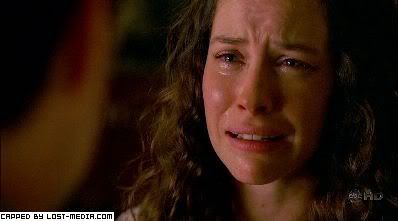 For those of us currently not watching the Batshit Channel, though, Sawyer and Kate have basically hit all the traditional landmarks in TV romances. And are now about to get another kiss which will be, according to the showrunners of Lost, a SPECTACULAR one.

Whether or not the kiss turns out to be as spectacular as everyone anticipates is beside the point. The Island Gods have made a big fuss over this kiss.



Let's revisit:

Damon Lindelof from March issue of Lost Magazine:

"Romance is always blooming on and off the island. And just for you,

I hereby promise you one of the most spectacular kisses you've ever seen on the show in this year's finale

."


04/02 Carlton from Ausiello:

In the new issue of Lost magazine, DL teased, "Romance is always blooming on and off the island. And I hereby promise you one of the most spectacular kisses you've ever seen on the show in this year's finale." Naturally, I pressed DL's partner in crime, Carlton Cuse, for further details on the earth-shattering smooch, to which he replied,

"I can disclose no more details other than to say it's one of my favorite moments of the whole series so far. And contrary to some speculation, it is a male/female kiss."




04/08 Damon Lindelof via Kristin:


It's still in the plan.
It's still spectacular.
It will happen between a boy and a girl.
But it doesn't happen on the island.
Your fan,
DL


04/28 Popular Mechanics (Updated thanks to Lyly!):
PM: Obviously this piece is about the science behind Lost, but I wouldn't be a good fan if I didn't ask you to give me some scoop on what's going to the rest of the season.
CC: It just seems really appropriate that we tell Popular Mechanics that
there's going to be a really juicy kiss coming up in the finale
and that there's going to be a lot more on the Sawyer-Kate-Jack romantic triangle. I mean, that's the scoop that should really be in Popular Mechanics.

05/03 Darlton on Jimmy Kimmel:

JK: So if you're not going to tell us anything about Lost, can you tell us about the Grey's Anatomy finale?


CC: We have a better kiss in our finale than Grey's Anatomy.


DL: There are several kisses.


05/15: What sounds like Damon from Ausiello:

Not only is the kiss spectacular, but according to a very solid source, it's the kind of liplock that

"stops f---ing time"

and

"makes the entire world vanish in the moment."




And TV Guide jumping on the hype-mobile:
"Finale scoop: "Kate's on the outs with Sawyer in a major way", Lindelof says about the on-again, off-again couple, who argued earlier in the season after Kate thought she was pregnant. Even so, don't expect that to keep the pair from sharing a spectacular goodbye kiss that just might make their first one pale in comparison."
So tell me again which couple is getting this much anticipated kiss, and supposed to be seen as the big romance on the show?
Is it the couple whose mercifully brief engagement was "doomed" (according to the TV Guide)?
Nah.
It's the couple that the showrunners trusted would be spectacular even before the finale was
finalised and even fracking filmed
.
The couple that could be trusted to knock it out of the park as always.
Sawyer and Kate. Who else?