SAWYER/KATE
and
DESMOND/PENNY:
Here's an analysis of Lost's two
spectacular
romantic relationships as posted by
Helena
at
the Fishelage:
Desmond and Penny met after Des left the monastery. In some way, brother Campbell made sure the two of them meet. Same brother Campbell who is a friend with Ms. Hawking. Coincidence or fate?
[Desmond heads to leave]
MONK: If you're not in a hurry, brother Martin's heading into town in a few hours, he can give you a ride. That is, if you don't mind doing some heavy lifting.
[Desmond laughs]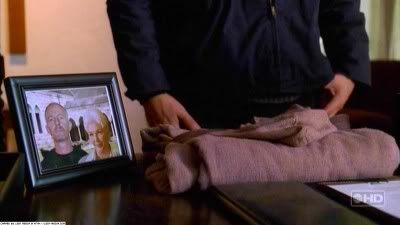 PENNY: Something tells me you don't entirely believe that.
DESMOND: I suggest that's because I don't.
PENNY: Well maybe they're right. I mean, just think, if you hadn't have got fired, we wouldn't have met, and then, how could you possibly help me unload these crates in Carlisle.
DESMOND: Did I say I was coming to Carlisle with you?
PENNY: Not yet.
PENNY: I mean of course if an ex-monk already has plans, then...
DESMOND: You know I don't usually get into cars with strangers.
PENNY: Well in that case I'm Penelope. [Pauses] Penny.
DESMOND: Desmond. Very nice to meet you, Penny.
[They smile and laugh]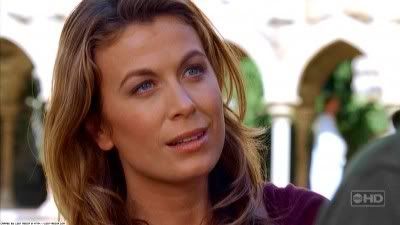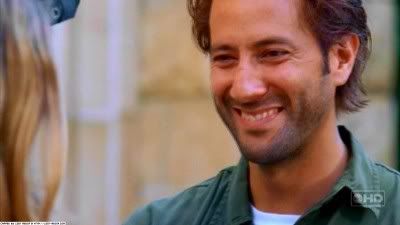 Kate and Sawyer met after the plane crash. They were the only two people (that we know of so far) that couldn't avoid that flight. Both of them were deported back to US. Coincidence or fate?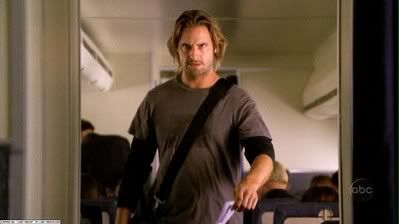 SAWYER [grabbing Kate's arm]: I know your type.
KATE: I'm not so sure.
SAWYER: Yeah. I've been with girls like you.
KATE: No girl's exactly like me.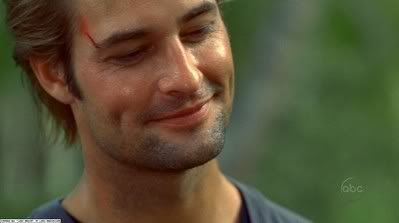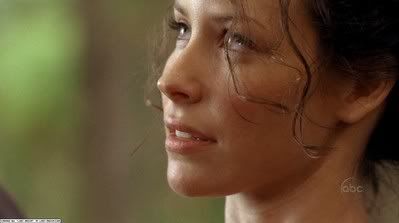 Both Desmond and Sawyer left the ones they love to try to
prove
something to themselves. Desmond left on a boat, Sawyer left on the raft.
PENELOPE: Why didn't you write to me?
DESMOND: When are you getting married, Pen?
PENELOPE: We haven't set a date yet.
DESMOND: I'll be back in a year.
PENELOPE: What if you were back, right now?
DESMOND: I'm going to win this race, Pen—his race. And in a year, I'll be back.
PENELOPE: Desmond, what are you running from?
DESMOND: I have to get my honor back, and that's what I'm running to.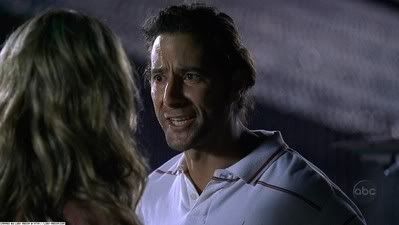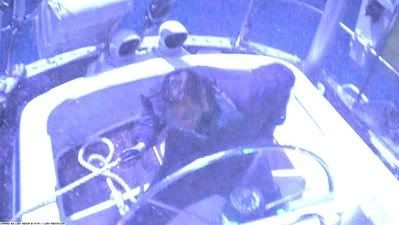 KATE: Why is it so important for you to be on that raft?
SAWYER: Cuz there ain't anything on this island worth staying for.
KATE: Be safe, Sawyer.
SAWYER: Yeah.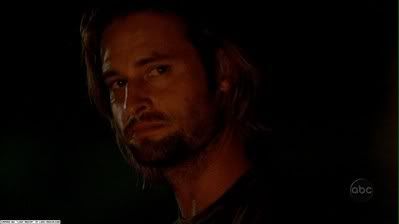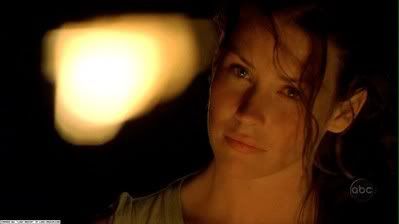 MICHAEL: Since the day you told me you wanted on this raft, I couldn't figure it out. Why does a guy who only cares about himself want to risk his life to save everyone else? The way I see it, there's only 2 choices -- you're either a hero or you want to die.
SAWYER: Well, I ain't no hero, Mike.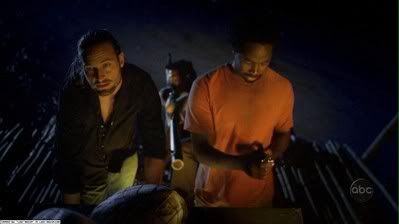 On the island, Desmond wanted to save everyone by turning failsafe key and whispering Penny's name, thinking he's going to die.
[We see Desmond cross himself and insert the key. We hear Penelope as a VO, reading again.]
PENELOPE: All we really need to survive is one person who truly loves us. And you have her. I will wait for you. Always. I love you.
DESMOND [turning the key]: I love you, Penny.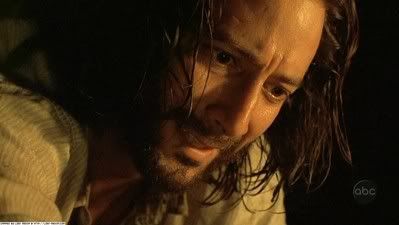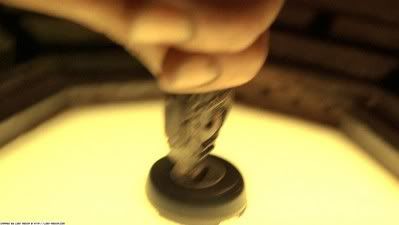 Sawyer was on his knees, ready to take a bullet in his head, wanting to save Kate and whispering to her that she closes her eyes:
[Sawyer lets go and lets Pickett have the upper hand. He is pushed face-first into the cage bars, and Pickett holds the gun to his head.]
KATE: No, NO!! Sawyer, PLEASE! You get your hands off of him!
PICKETT: Get on your knees! [Pushes Sawyer to his knees]
KATE: Please!! I'll do anything you want!
PICKETT: I want you to watch!
SAWYER: Close your eyes, Freckles.
KATE: Stand up!
SAWYER: Close your eyes!
[Sawyer closes his eyes, as Pickett prepares to shoot him execution style.]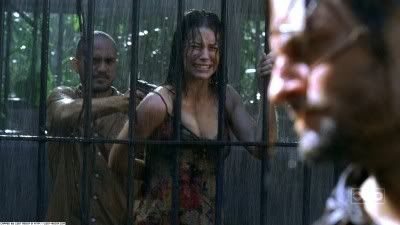 Sawyer jumped of the chopper because he wanted to make sure Kate and his friends gets rescued. Baby Aaron and pregnant Sun also managed to get rescued later, because chopper made it on time to take Aaron and Sun. By turning the failsafe key, Desmond saved the world. Jumping of the chopper, sacrificing a chance to be happy with Kate, Sawyer saved the people he loves and cares about, including his Freckles.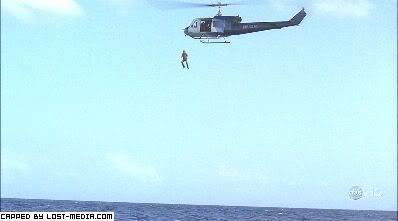 Desmond felt unworthy of Penny's love, just like Sawyer felt unworthy of Kate's love:
WIDMORE: You know anything about whiskey?
DESMOND: No, I'm afraid not, sir.
WIDMORE: This is a 60 year MacCutcheon, named after Anderson MacCutcheon, esteemed Admiral from the Royal Navy. He retired with more medals than any man before or since -- moved to the highlands to see out his remaining years. Admiral MacCutcheon was a great man, Hume. This was his crowning achievement.
[Widmore pours some into one glass.]
WIDMORE: This swallow is worth more than you could make in a month. [he drinks it down] To share it with you would be a waste, and a disgrace to the great man who made it -- because you, Hume, will never be a great man.
DESMOND: Mr. Widmore, I know I'm not...
WIDMORE: What you're not, is worthy of drinking my whiskey. How could you ever be worthy of my daughter?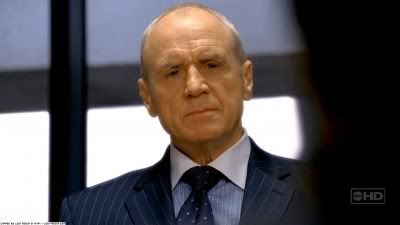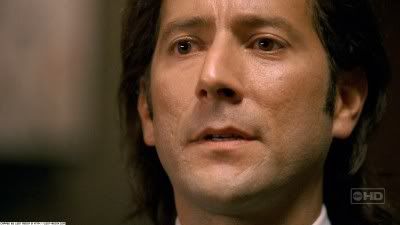 BEN: Mind if I ask you a question, James?
SAWYER: Yeah I do.
BEN: Why'd you leave Kate behind?
SAWYER: Wasting your time, Yoda.
BEN: I know its not pleasant but, let's face it, you really don't stand a chance now...
SAWYER: Chance of what?
BEN: James. Look at yourself. Yes, on this Island you're brave, daring, handsome, you're someone, but if you left with them, back in the real-world a low-life scam artist like you could never compete with a first class surgeon. I think Kate was really upset when you made your choice to come with us. Thank god she has Jack there to comfort...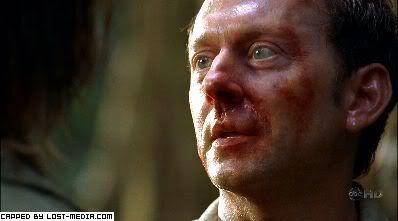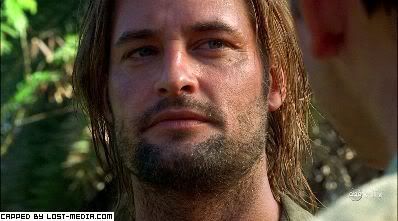 DESMOND: I can't do this.
PENELOPE: You can't do what?
DESMOND: Us. This. This relationship.
PENELOPE: What are you talking about?
DESMOND: How can I? I - I can't look after you. I haven't got a job. I don't have any -- I can't even afford 5 quid for a bloody photograph. You deserve someone better.
PENELOPE: I know what I deserve. I chose to be with you. I love you.
DESMOND: Love's not enough. Being a good man is not enough.
PENELOPE: What's this about, Des? Where's this coming from?
DESMOND: It's all happening too soon -- you moving in. You're painting rooms; you're changing things. I don't even like red. Why would you leave your flat, your expensive flat...
PENELOPE [slapping Desmond's face]: Don't do that. Don't you pretend you don't care. And don't you dare rewrite history. I left my expensive flat because you were too proud to live there, remember. If you want me to go -- if you want me to leave then don't make this about what I do or don't deserve. And have the decency to admit that you're doing this because you're a coward.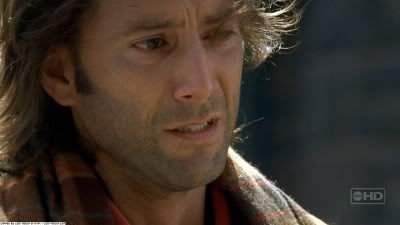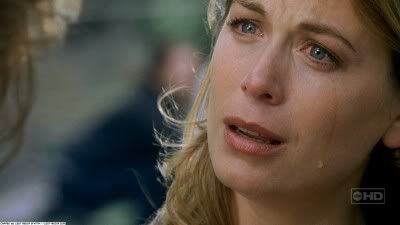 Bolded parts scream SKate to me.
In 1996, Desmond asked Penny her phone number and wanted her to answer when he calls on Christmas Eve, 2004:
DESMOND: Look, Penny, just give me your number, and, and I know I've ruined things, and I know you think things are over between us, but they're not. If there's any part of you that still believes in us, just give me your number.
PENNY: And what's to say you won't call me tonight, or tomorrow.
DESMOND: I won't call for eight years. December 24, 2004. Christmas eve. I promise. Please, Pen.
PENNY: If I give you the number, will you leave?
DESMOND: Aye.
PENNY: 7946-0893.
[DESMOND repeats the number, whispering.]
PENNY: All that, and you're not going to write it down?
DESMOND: It wouldn't do any good. You have to keep that number. You can't change the--
PENNY: Just get out, get out!
DESMOND: --just remember, December 24th, 2004. If you still care about me you'll have to--
[Door slams in his face.]
DESMOND: I'm not crazy, Penny! You have to believe me! You have to-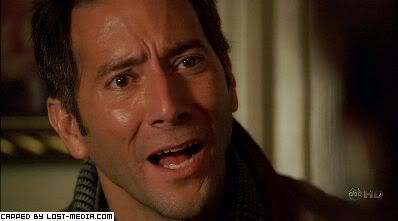 On Christmas Eve, Penny answered the call. And with it saved Desmond's life.
[Phone rings, someone answers.]
PENNY: Hello?
DESMOND: Penny?
PENNY: Desmond?
DESMOND: Penny...Penny, answer. Answer, Penny.
PENNY: Des, where are you?
DESMOND: I'm...I'm on a boat. Um...I've been on an island, and--- Oh, my god, Penny. Is that really you?
PENNY: Yeah! Yes, it's me!
DESMOND: You believe me? You still care about me?
PENNY: Des, I've been looking for you for the past three years. I know about the island. I've been researching---(static)---and then when I spoke to your friend Charlie, that's when I knew you were still alive. That's when I knew I wasn't crazy. Des, are you still there!?
DESMOND: Yes, yes, I'm here! I'm still here, can you hear me?
PENNY: Yeah, yeah, that's better.
DESMOND: I love you, Penny. I've always loved you. I'm so sorry. I love you!
PENNY: I love you too.
DESMOND: I don't know where I am, but--
PENNY: I'll find you, Des--
DESMOND: --I promise--
PENNY: --no matter what--
DESMOND: --I'll come back to you--
PENNY: --I won't give up--
BOTH: I promise. I love you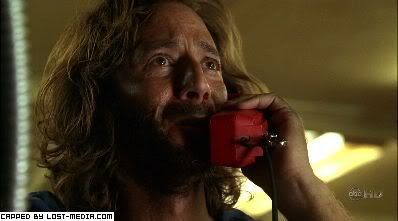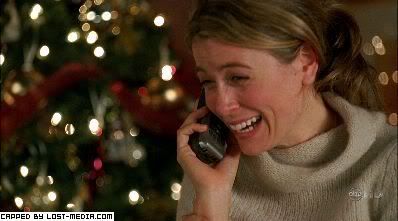 In December 2004, Kate makes a promise to Sawyer (probably that she'll find his daughter):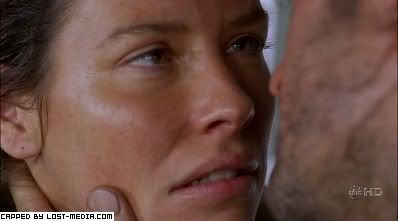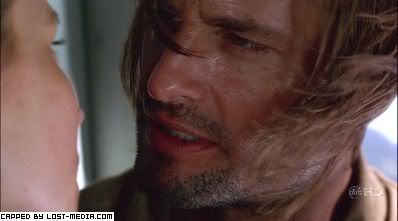 In September 2007, Kate is still keeping her promise:
JACK: I wanna know where you were. I wanna know who you were with.
KATE: It doesn't matter, Jack. Please.
JACK: No, tell me. Tell me!
KATE: (Sighs) I was doing something for him.
JACK: For who?
KATE: For Sawyer. I made him a promise. It... (sighs)
JACK: (sighs) What?
KATE: It doesn't matter. It has nothing to do with us.
JACK: Then why won't you tell me?
KATE: Because--because he wouldn't want me to.
JACK: But he's not here, is he? No. No, he made his choice. He chose to stay. I'm the one who came back. I'm the one who's here. I'm the one who saved you.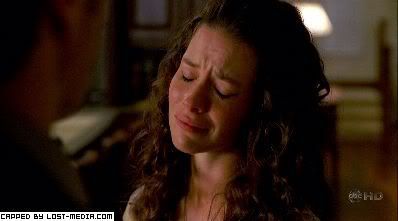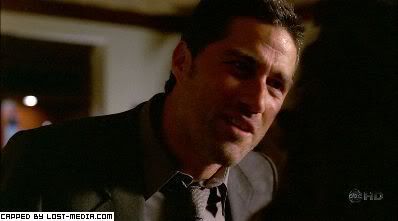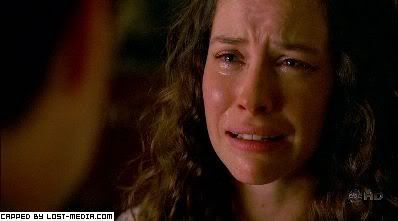 Desmond and Penny separated in 2001. After three years, in December 2004, they found each other again: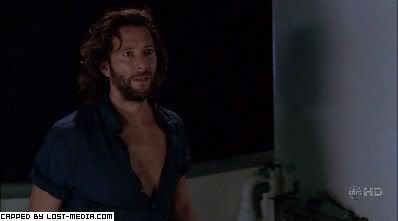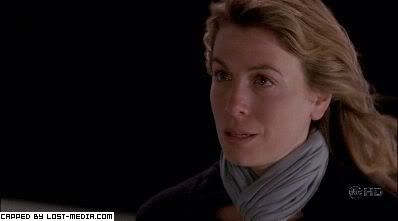 Kate and Sawyer got separated in December 2004: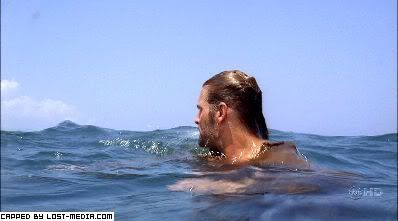 In 2007/2008 they still haven't found each other.
And lets not forget that these two epic couples kissed in the finale (we all know which is
the
spectacular one):