The Winds of Fate Are Changing?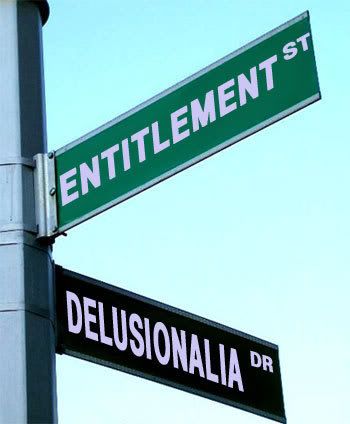 We have Damon dropping a spoiler in the latest Lost magazine claiming there's going to be one of the most spectacular kisses ever in the season finale, and do the Bubbleheads even entertain the possibly it could be between anyone but their much maligned fated couple?
Of course not, what frakking planet are you living on? JIF is the only option. Because, to quote L'Oreal: They're worth it. Someone needs to make me an icon, STAT.
This vague spoiler is being met with almost religious fervor. Because, yanno, Damon is a Jater. Who cares if he never said who would be doing the kissing. Who cares if a whole lot of other
actual
couples are going to be ripped apart during the rescue, or Penny might show up finally to plant one on Desmond.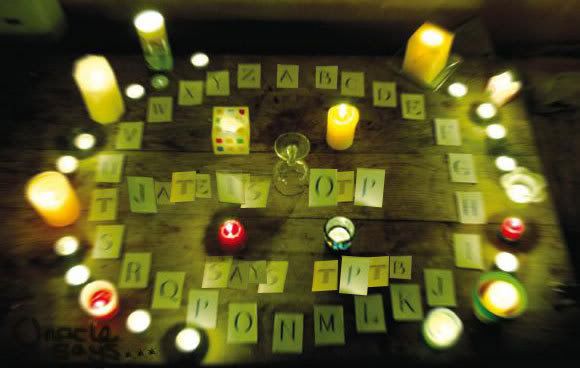 No, it's a Jiss. And nothing will stop its coming. Unless... Mike or Vincent or Aaron interrupts and imposes another one of those lame ass 'obstacles' that Bubbleheads go on about.
It's a Jiss, I tell you. Unless... the writers are meanspirited hacks, pandering to the unwashed masses and make it a couple less deserving.
The end (of non-Jate) is Nigh! Rejoice! And a smiting on all who ever doubted it.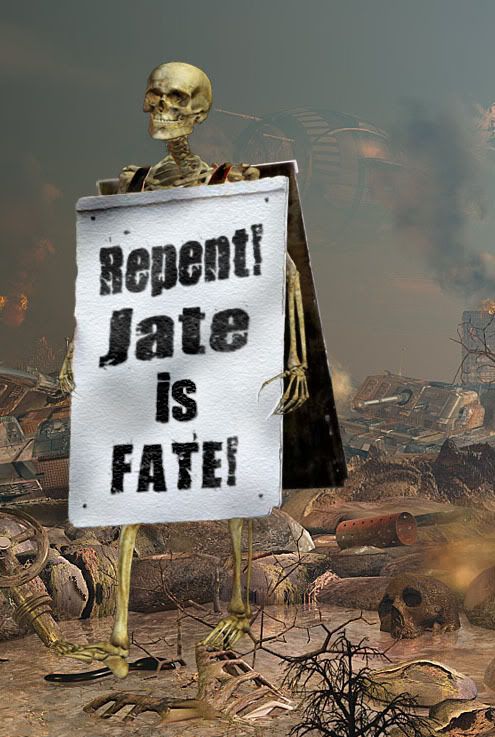 It seems as though a certain kiss involving Jack and Juliet a few weeks ago sent some Bubbleheads heading back into that Dark Territory again (no, not Danielle's fave island spot) known as Entitlement Street.
Apparently TPTB have done them wrong. Because their shipperdom is most deserving of getting the storylines they want. They've been the most patient. The most classy. The creators OWE them something for suffering through not only the abomination and pig porn of Skate,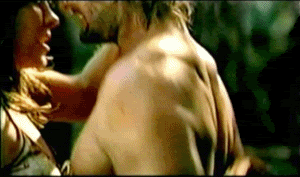 but now the indignity of seeing their constant be inconstant and suck face tenderly with that dirty no-good over-qualified Other femme fatale Juju (Or Muffin if you want to be particularly passive aggressive about it).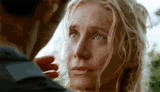 They even got to share an emotional hug which wasn't a con involving the theft of a SAT phone. Oh, the humanity. Now not only Kate is running off and locking lips or getting half nekkid with another man, but Jack is now doing romantic 'stuff' with another woman. Whoops, make that an Other woman.
Hence the recent rash of posts on the Fuse that remind us all once again why Bubbleheads bring the funny. I like to think that those irreverent cocky bastards whom we know as Darlton are laughing their frakking heads off at the gnashing and wailing.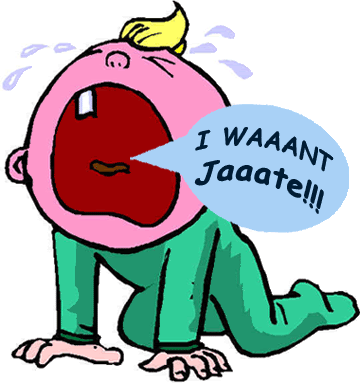 Some random snippets for your amusement:
Girl Scout:
"

What Jaters have dealt with for the past three years is enough to throw in the towel at times, and I'm making an open plea to the TPTB that we, without sounding too arrogant here, deserve a storyline for Jate that is worth the wait.

We know the writers are more than capable of writing an exquisite love story which they have done now for Des/Penny, Sun/Jin, etc.

that to shaft us by giving us paltry or weak semi-romantic Jack/Kate scenes for the rest of the series, would be an utter travesty

. It needs to be, as this thread title suggests, epic."

"

After three years of angst, I think setting some high standards isn't too much to ask for...

"
Lily86:
"if anyone deserves "the most spectacular kiss in the history of lost" then it's definetely gotta be the faithful jatersgood things come to those who wait and we've waited for soooo spectacularly long"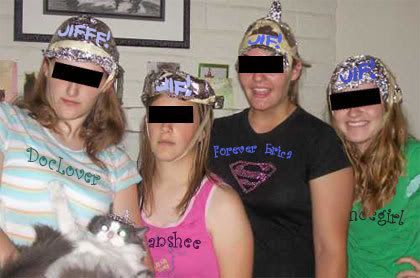 ManOfScience6:
"Although the waiting has been extremely difficult, I agree with what you two are saying in which that everything will be worth the wait.

With the excellent romantic scenes that the other ships have enjoyed, I know that will be nothing compared to what TPTB have in store for the most patient people of all the shippers, the Jaters!

I can't wait for that unbelievable romantic scene that we are definitely in store for in the very near future. I hope it is in the VERY NEAR FUTURE because

we deserve for something truly romantic and extraordinary with no angst, interruptions, or hiatus

'."

DocLover:
"I want those to continue also and I believe that they will. :biggrin: We sure have had three years of angst, not to mention ambiguity, interruptions, obstacles, Others, etc., etc.:rolleyes: It's about time for a moment where Jack and Kate are together, alone, and actually get to have a real conversation without holding anything back.

A moment with NO ambiguity, interruptions, obstacles, Others, etc., etc. And I, for one, do not think that is too much to ask for!

"



(Above pic made by the talented susan14509)



ManOfScience:
"HOWEVER, seriously you can't give you one little bitty scene with Jack and Kate? TPTB couldn't give us something to hold on to for our more than one month wait?

I gotta admit I would've thought that they could give us just a little something to remember them during the month hiatus.

Ahhhh they get me upset."

WhiterRabbit:
"Well, I was disappointed that we didn't get any Jate tonight as well, but in TPTB's defense, when this episode was originally plotted out, they didn't know there was going to be a hiatus following MKJ.

Hopefully, they'll be able to make it up to us in the remaining 5 episodes

, before the next hiatus from Hades begins."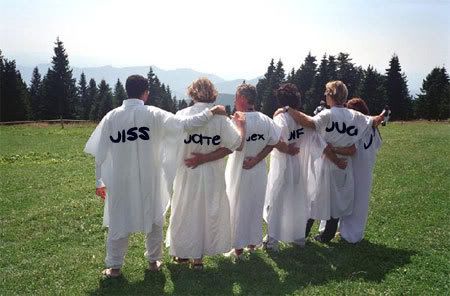 Just A Button:
"Well to be fair, when they made this episode they didn't know that there would be a break after it....

so you can't really blame them for not "giving" us anything

."

adam8023:
"I hope will get some Jate before the season finale! (prays)

We deserve it!

"


Shoegirl:
"It is very very frustrating that Jaters are always expected to put up with the obstacles being thrown in Jack and Kate's way, but alas, TPTB must think we, more than anyone, have the patience of saints, know where the show is leading, and think we will sit back and wait for the payoff and the ultimate relationship.

I'm speaking only for myself, but I'm pretty darn tired of waiting.

Get with the program Darlton. You are ruining all the female characters with the geometry of doom."
Entitlement and Delusion show no sign of abating in Season 4, that's for sure. This sums up the typical confidence in
JIF
land:
Livin4Foxy:
"

IT IS OUR SEASON




OUR DESTINED TIME




OUR EPIC COUPLE




OUR FATE





and so its going to be our spectacularness

"
You also have the nutbars who sound like perfect future candidates for the next religious cult to emerge:

"On the questions for kate and jack.. only time will give them what they need to cross that road which will decide what they know is the most important thing in their lives.


and of course our faith as watchers.. we too give them the "power". we in our faith of the writers give them the strength

. (corny but imo).



I have been blessed or just lucky or maybe neither, but the love i have been given and have is marked with the letters KJ each step i have taken in this new journey as been on the same path as our faithful duo. and when i sometimes question this path, the universe brings me back to the same correct course.



I dont want easy or simple. or a fairy tale ending.. how boring.. I want reality.. and kate and jack are reality..."
Even though they are fictional characters? Mmmkay then. And Darlton aren't some kind of parasitic spiritual entity that feeds on faith or prayers. Dude, you've been watching too much Stargate.
ana paula:
I don't hate jate!!!!!!!!!!!!

I LOVE LOVE LOVE LOVE JATE!!!!!!

They have the strongest chemistry and relationship in Lost!

I love Lost because of JATE!!!!! And I know many people that think the same way, like me!



JATE IS FATE!!!!!!! This is our mainly mantra! This is our religion, this is our belief!!! Until the end of the show!!!!


kkkkkkkkkkkkkkkkkkkkkkkkkkk

I laugh when I heard or when I read people are talking bad things about Jate! It is so funny and so ridiculous to me!!!!!

kkkkkkkkkkkkkkkkkkkkkkkkkkk

Oh, and I must want a Matthew Fox in my live! Oh my God! He is so hot, so gorgeous and a great kisser! I saw Party of Five and I see Lost! Nobody beat MF!!!

JATE IS FATE!!!!!!

FOREVER!!!!!!!!!!!!!!



Easy on the exclamation marks there, girl. Someone could lose an eye.
In honor of this revisit to Entitlement Street, I rustled up a little song from Mr Rogers.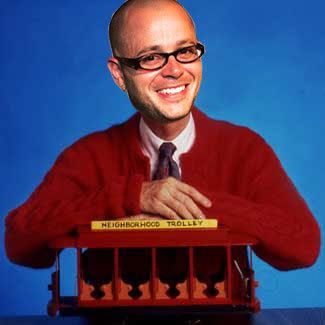 Seemed appropriate, especially since it's a Bubblehead thing to take other memorable literary works and bastardize and mangle them into some Jate dribble.
Here is the link to the original source, and you can even listen to the tune there if you want.
http://pbskids.org/rogers/songlist/song7.html
What do you do with the entitlement that you feel

When you feel so bitter you could scream?

When the writers won't give you what you want.

And nothing you do gets you Jate on the screen?


What do you do? Do you punch a Skater?

Do you demand Darlton pay what they owe?

Do you make up fake quotes to claim everyone's a Jater?

Or rant that Jack deserves a go?


It's hard to be able to ship

When you've picked a ship that's wrong,

And are forced to watch something else instead

And feel gyped all along:


You will JIF when you want to

Can JIF when you wish.

You can JIF, JIF, JIF any time.

Oh what a feeling to continue to ship.

And know that you deserve a reward for all of the shit.

Knowing that there's righteousness deep inside

That helps you believe what you can.

That Kate will someday be a woman

And Jack will someday be a man.
Of course now it's all smiles again, and dancing bananas, and 'I told you so', and Darlton are our BFFs forevah!
Someone pass out the lithium, please.
So. What do
I
make of this latest Damon quote about a big kiss come the finale? I'd put money down on it being more of this kind of action: